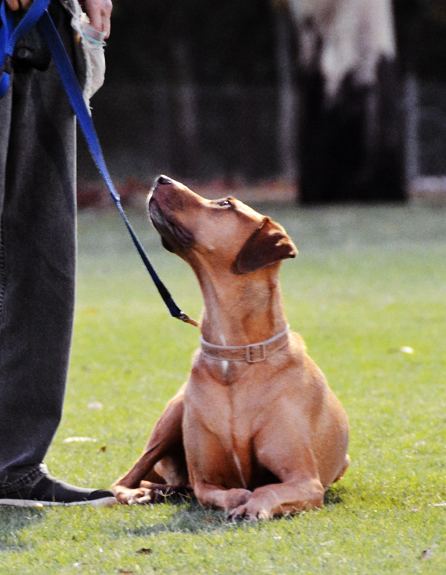 WHERE WE STARTED
In 1997 a small group of dedicated dog owners and trainers saw a need for a dog training club in the Midland area. In the middle of the year the Midland Dog Training Club was established with four instructors and more than 50 members.
The club aimed to provide pet training for the community and the opportunity for those involved in obedience competition to develop their skills. Later in the year agility training was added after the purchase and construction of the necessary equipment.
Jack Mann Oval has been the club's base throughout and the onsite tennis courts came in handy as a free play and interaction area for puppies in the early years.
Today the club provides classes in obedience, rally obedience, dances with dogs and advanced jumping.
OUR TRAINING PHILOSOPHY
Midland Dog Training Club, is a well-established positive reinforcement club with a focus on training most dogs and their guardians from beginner to advanced levels.
Our instructors are very experienced and are involved in many aspects of dog behaviour, obedience and competition sides of the dog world.
All instructors and members use positive methods for training and support best practice for training dogs of all ages and skill levels.
Our small beginner group classes start with pet dog training, helping families understand their new puppies and older dogs and "life skills" – from interpreting body language to understanding how to handle the day to day and out and about situations with their dogs.
From beginners classes, members move up to the more advanced and experienced levels, with both social and competition based programs.
Please note: – not all dogs are suitable for classes and we may offer an alternative.
WHAT IS POSITIVE REINFORCEMENT?
Positive reinforcement utilizes anything that, when presented immediately following a behaviour, causes the behaviour to increase in frequency. The most commonly used reinforcers are treats and verbal praise, but some dogs respond well to favourite toys and activities. The most important thing is that the reinforcer must be pleasing to your individual dog.
After you determine what to use as a positive reinforcer with your dog, you can then utilize it to strengthen your dog's behaviour in various scenarios by presenting the desired item immediately following your dog's actions. By rewarding them for their behaviour, your dog will be more likely to repeat his actions the next time he encounters a similar situation.
An example of using positive reinforcement is – You ask the dog to sit,- he sits. You give him a treat – He is more likely to sit the next time you ask.
"A fantastic environment with helpful, friendly trainers.  I'd highly recommend this club to anyone wanting to learn how to work more effectively with their dogs."